Florida Coral Reef Tours and Snorkeling in Key West Waters
As the westernmost highway-connected gem in a jewel-like string of islands extending from the tip of Florida, Key West embraces both its rich history and its vibrant present. Celebrated playwright Tennessee Williams, author of such classics as A Streetcar Named Desire and The Glass Menagerie, spent the last 34 years of his life in Key West. Just a few blocks away from Harry Truman's Little White House, where the 33rd President of the United States stayed to regain his health, the Ernest Hemingway Home and Museum enshrines a writer who brought daring adventure to the masses.
Adventure is still to be found, right here in Key West. Come to SNUBA® Key West to see a whole new world beneath the surface of the sea: Don a mask, flippers, and a snorkel, and prepare to be amazed!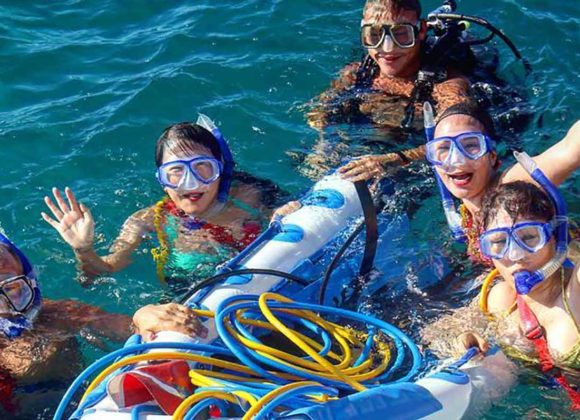 A short drive from the Palm Avenue Causeway at the Garrison Bight Marina, SNUBA® Key West offers visitors an exceptional opportunity to experience life under the sea. If you want to go underwater without lessons and heavy equipment, snorkeling in Key West may be the perfect choice for you. When you snorkel in Key West with SNUBA® Key West, you'll start out in more shallow waters, where you can stand on the bottom whenever you want…easing you in to the snorkel Key West experience.
Because there's so much less equipment than diving, snorkeling is less expensive and easier to learn. There's no certification to earn or pricey apparatus to buy. If you can swim in a pool, you can snorkel in Key West with SNUBA® Key West!
Besides costing less and requiring very little training, snorkeling has the advantage of stealth. Since it's virtually silent, snorkeling in Key West won't scare off the fish and other aquatic life. Protected by the only living coral reef in the contiguous United States, a wonderful array of tropical marine life thrives in the Florida Keys—and snorkeling in Key West is one of the easiest and most satisfying ways to pay it a visit. Meet loggerhead turtles, one of several turtle species native to the area. Demure damselfish, striped black and yellow like honeybees, make their graceful appearance in groups. Parti-colored parrotfish follow their noses to the tastiest coral, chewing off the algae and keeping the reef healthy.
Although the reef itself and the sea life will be close enough to touch, you'll want to avoid touching either one when you snorkel in Key West. Coral reef is a delicate, fragile ecosystem that can be easily disturbed and damaged, displacing the marine lifeforms that nest within and depend on it to sustain them. The fish and other sea creatures may be frightened or provoked by your unexpected touch, so just enjoy the chance to see them up close in their own natural environment.
Whether this snorkeling excursion in Key West is your very first or you've already had the pleasure of snorkeling, the skilled team at SNUBA® Key West will guide you through an unforgettable day of snorkeling in the majestic beauty of the Florida Keys.