SNUBA® Key West Snuba Diving Adventures– Explore the Stunning Coral Reefs of Key West with Tropical Fish. Experience Underwater Sea-Life with Photo Packages Available.
Go Beyond Snorkeling®
SNUBA® was created in Hawaii nearly 30 years ago to enable anyone without a Scuba certification to fully enjoy the natural wonders that lie beneath the sea. SNUBA® Key West was founded in 1999 and has been continuously serving locals as well as vacationing families on their quest to experience the underwater world for nearly 20 years! We are the only SNUBA® company licensed to operate in beautiful Key West, Florida. SNUBA® of Key West also services major cruise lines including Carnival, Royal Caribbean, Celebrity, and Disney-introducing thousands of cruise ship guests to diving each year!
BOOK NOW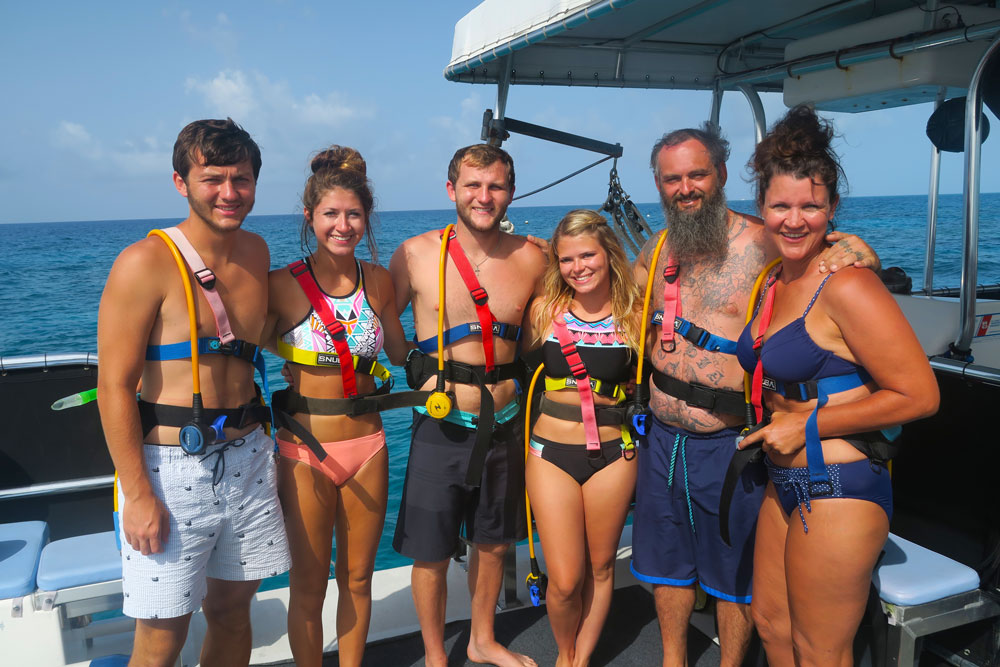 WHAT IS SNUBA®
SNUBA® is the closest you can get to scuba diving without being Dive Certified!
Go Beyond Snorkeling® into new depths for greater durations where you can easily and safely breathe underwater without heavy, cumbersome dive gear. Discover amazing coral formations, schools of tropical fish, and swim alongside colorful creatures as you glide effortlessly beneath the waves.
SNUBA® is safe family fun and simple to learn!
No prior diving or snorkeling experience is required to enjoy SNUBA®
All necessary equipment is provided and fitted for each guest by our team of professionals. Our guests' experience is our number one priority, so comfort and safety in the water is job one. After a brief 15-20 minute orientation during the ride out to the dive site, guests are ready for their underwater tour of our beautiful local marine ecosystems!
VIEW OUR RATES
SEE WHAT EVERYONE IS SAYING ABOUT SNUBA®
"Amazing, breathtaking, inspiring, captivating and incredibly beautiful"

"Novices don't need to know how to snorkel to try SNUBA..."

"An exciting way to experience breathing underwater..."

"A new way to experience watery depths, it can't be beat."

"I had never been snorkeling. Now, as soon as I go home, I'm taking a scuba course!"

"SNUBA was better than a resort course because it didn't take all day."

"SNUBA just may be the best underwater advancement since flippers"
READ MORE
DID YOU KNOW?
SNUBA® International, Inc. and its licensed SNUBA® Recreational Centers around the world represent the largest affiliated dive operation in the world.
SNUBA® Recreational Centers have conducted over 6 million dives without a single injury claim.
SNUBA® Recreational Centers conduct as many as 2,500 SNUBA® dives per day.
Many of the largest diving operations in Hawaii, the Pacific and Caribbean are SNUBA® Recreational Centers.
SNUBA® International offers worldwide professional liability insurance coverage for its staff of SNUBA® Guide professionals, which is provided by Vicencia and Buckley.
SNUBA® participants are mainly first time divers with basic swimming skills and/or snorkeling experience.
The minimum age for a SNUBA® participant is 8 years old. SNUBA® Doo is available to children ages 4 to 7.
The SNUBA® dive system is not offered for sale and can only be experienced through licensed SNUBA® Recreational Centers who provide guided supervision.
Some of the most successful SNUBA® operations are found aboard snorkel boats where guests are offered the option to Go Beyond Snorkeling with the SNUBA® experience.
The majority of guests who participate in SNUBA® go on to become certified scuba divers after they experience the wonders of SNUBA®.
SNUBA® KEY WEST RATES
| | |
| --- | --- |
| | PRICE |
| SNUBA® only | $109 |
| Child SNUBA® (Ages 8 – 12 SNUBA® only) | $89 |
| Snorkel / Ride Along | $60 |
| GoPro Rental | $50 |
| Professional Photo Folder | $40 |
| Professional Photo Folder + Digital Photos Download | $60 |
| Towel | $20 |
| T-shirt | $15 |
| | $80 |
TRIP TIMES
(seasonal trips last 3 to 4 hours in duration) (Winter times may vary)
Monday – Sunday
9:00AM
1:00PM
RESERVATIONS ARE REQUIRED
BOOK NOW
GIFT CARD
Customize! Customize! Customize!
SNUBA® Key West is proud to offer custom quotes for charter excursions and any of our SNUBA® and Cocktail Cruise combos.
Give us a call at 305-292-4616 and let us know how we can customize a package for you!
*SNUBA® Key West proudly offers a 10% Discount to locals and anyone in the military with proper ID.
QUALIFICATIONS:
At least 8 years of age or older
In good health or cleared by a physician to dive
Have basic swimming skills and be comfortable in the water
Safety Briefing & Skills Review:
Participate in a 15-minute safety briefing
VIEW LIABILITY RELEASE FORM
Review and practice the skills discussed during the briefing:
Hand signals for underwater communication
Mask clearing
Proper breathing
Skills for controlled ascents and descents
Ear equalization techniques, and more…
MEET OUR CREW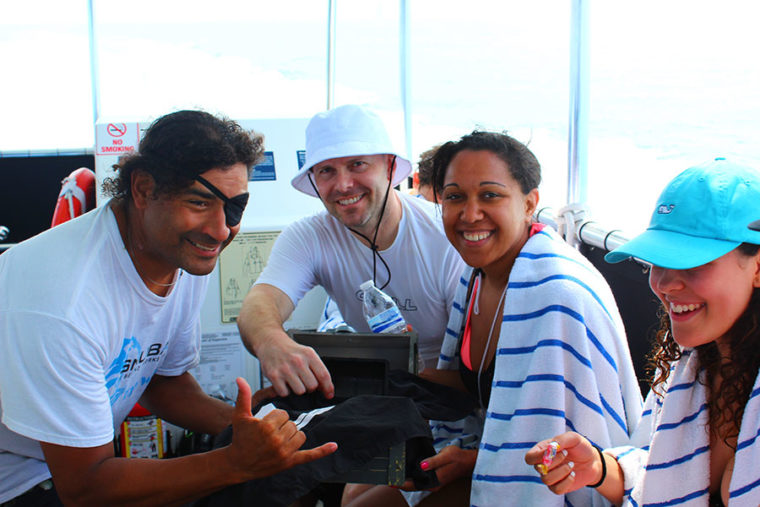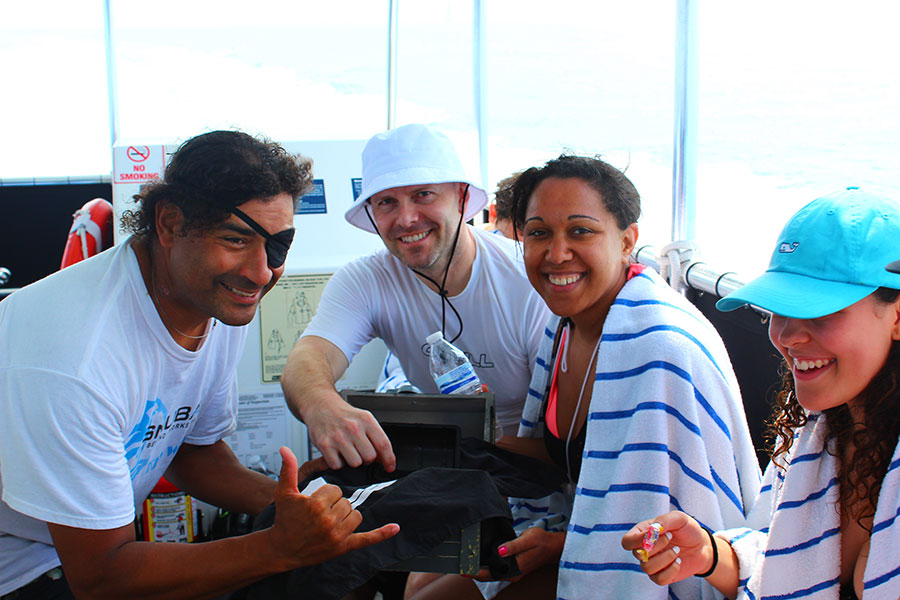 What to Bring:
Bathing Suit
Towel
Sunscreen
Form of Payment
Gratuity for the crew (they deserve it)
Welcome to bring a snack or lunch (we provide pretzels, candy, water, soda) or alcoholic beverages for after the dive.
LET'S SET SAIL!
BOOK YOUR NEXT SNUBA® ADVENTURE TODAY
BOOK NOW