Do you have an adventurous soul? Then, the taste of true adventure will always come under water. Amidst that kind of calmness and tranquility, you can truly feel your own presence. Therefore, many people go for snorkeling. Snorkeling is a fun activity where you take a plunge under the sea and even go near the seabed. Get to experience a variety of sea creatures including different kinds of coral formations, tropical fish and aquatic plants, and soak in the overall atmosphere of a under the sea. However, it must be done under supervision and requires a little bit of training. We, at SNUBA Key West, provide you with a combination of snorkeling and scuba diving experience. You will be able to stay afloat in water without wearing any kind of heavy or restrictive diving gear. You will not be required any prior diving or snorkeling experience anyone who is at least 8 years old can do it. You will just be given an orientation for 15 to 20 minutes for your sail out and you will be accompanied by the professional guide for the underwater tour. So, if you are interested in coral reef snorkeling, you can resort to us.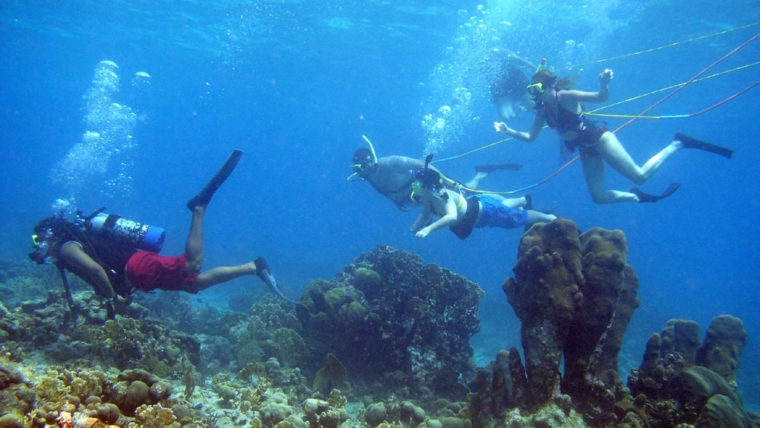 Here, we have put together 3 questions that you should ask the company with whom you are embarking on this adventure. Take a look.
What kinds of locations do you offer these snorkeling and scuba diving tours?
There are several places where you can try this kind of a water sports. But some locations are believed to be more popular for this. So, ask the company about the locations and check if they can offer the tour in those locations.
Do you provide other facilities like refreshments on the catamaran?
Usually, these tours take place in the middle of sea where you are supposed to travel in a speed boat or a catamaran and then you dive from there. Some companies offer soft drinks before you go underwater.
What are the timings for the tour?
In order to understand which is the best time for you, you must get a few timing options and then make your choice.
So, contact us now if you want to opt for such a tour.