Are you an adventurous soul and is traveling or exploring your passion? Then, if you have already about 30% of the earth which is land, now it is time for the rest of the 70% which is water. For those who don't know, you must realize that there is beautiful life under the waters. And your true taste of adventure can be enjoyed when you dive under the water and explore its fascinating beauty. There are many who take interest in such explorations and that is why there is an increasing popularity of the water activities like the scuba diving or snorkeling. We, at Snuba Key West, can be your one stop destination for scuba diving, snorkeling, or the exotic coral reef adventures. We have expert staff who take daily charters or trips to help you learn how to scuba in the waters of the Key West. You will not need any dive certification and it will be an easy to learn, fun, and safe experience for you. We have been in this field for more than 15 years and are renowned for our water-based activities.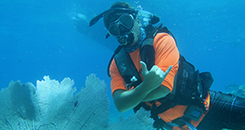 Here, we have put together a few reasons why we love scuba diving. Take a look.
Exploring
First of all, you learn and experience a new part of the world. It is a beautiful, memorable, and truly enriching experience. So, it is definitely worth going to this kind of an adventure if you love to travel and explore.
Learning
Secondly, scuba diving is a skill that you are learning. It is extremely interesting and enjoyable. With more practice, you will sharpen your skills. For those who love to learn new things, this could be really exciting.
Relaxing
Scuba diving has relaxing and positive energies which calms your soul and helps you breathe peacefully. You experience every moment of your breath and makes you feel like you are practicing Zen.
So, if you are interested in our scuba diving lessons, quickly book your tour today.