If you have come to Florida for vacations you should include a charter cruise service in your itinerary. At SNUBA, we organize customized cruise options every day. It is a known fact that the sunsets here are spectacular, so, if you hire one of our private charters at SNUBA, you will be experiencing something extraordinary in our beautiful, state-of-art vessel. This vessel will provide you ample space and comfort for any kind of trips, be it a sunset cruise, a private bachelorette party, or even an office party. The people of Key West FL choose us time and again because we give equal weightage to both comfort and fun on a trip; we never sacrifice your comfort or enjoyment to fill up the boat with people. We can even arrange for bands, musicians, DJs, or even local performers to keep you entertained throughout the cruise.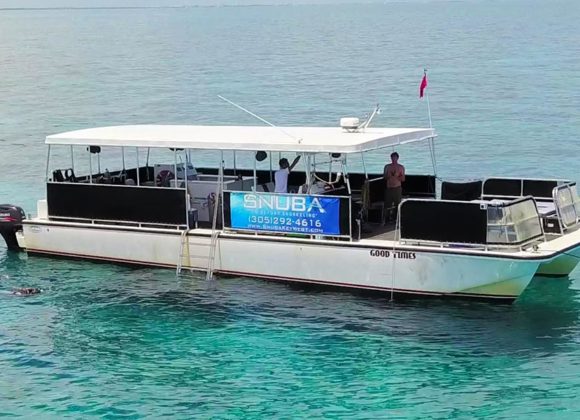 Below we have mentioned a few common types of charter services Snuba has to offer. Take a look.
It doesn't matter whether you have a scuba diving certificate or not, you can swim around the coral reefs and see the colorful fish and other forms of aquatic life and enjoy the most spectacular underwater spectacles. You tell us what you want, a fun family time, a team-building exercise, or an adventure with friends, and we can arrange it for you.
You do not always have to submerge yourself deep into the waters always, you can try snorkeling where you can breathe through a regulator attached to an air supply on the surface and have a good time. If you want to experience it, our men can organize a snorkeling tour for you.
People have been spending their days enjoying the beautiful, clear shallows of the sandbars of Key West for generations now. We have a few good spots where you can have a great time and we can arrange for some music, refreshments and other activities as per your preferences.
So, if you want to plan something special, you can contact us on (305) 292-4616.