Snorkeling is quite a popular water activity in the region of Key West, Florida. The beaches of this region are always buzzing with local as well as vacationing crowds. Snuba, founded in the year 1999, helps people without a scuba certification to fully explore and enjoy the natural wonders that lie beneath the ocean. We are the name that people trust for any kind of snorkel adventure, custom charters, excursions, or even corporate events. With us, you do not have to wear any kind of heavy restrictive diving gear; we are here to help you to breathe easily underwater and see you glide effortlessly through the school of fish.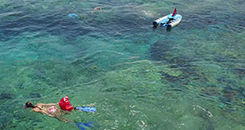 Below we have mentioned 3 vital tips to remember for your next underwater snorkeling adventure. Take a look.
Learn how to get water out of your mask
For this, first, you have to get a mask that fits you perfectly. If you do not get one, to avoid water getting filled up in your mask, you should lift your head out of the water, tilt the mask to drain the water. If you have your trainer with you, he can also get rid of the water while you are still underwater by tilting your mask and quickly adjusting it back in its right place
Do not swim too fast
Swimming too fast underwater will not only tire you quickly but it'll also panic the underwater marine life. In order to stay under the water for a longer period of time, you should reduce the usage of your arms as it'll help you breathe and it will not get exhausted too easily
Allow yourself to relax
Snorkeling is a relaxing experience. If you try too hard, feel stressed or anxious then you will not be able to have a good time. It is necessary for you to slow down, take deep breaths, and relax while taking in the view below the ocean.
So, if you plan to go on a snorkeling or a scuba diving trip with us, you can give us a call at (305) 292-4616.