One of the most exciting and exhilarating activities that you can engage in, nowadays, is deep-sea diving. As laymen, you will be given some guidance and a fair bit of practice before you can snorkel or engage in other such activities. We, at Snuba Key West, bring to you the thrills of this activity, along with the safety ensured by our licensed trainers and guides. Given the nature of this activity, we ensure complete adherence to safety measures as prescribed by the law. Our employees are trained to ensure your enjoyment as well as your security. We do everything possible to alleviate the concerns of our guests and make sure that they are completely satisfied with us before they can go diving without employees. We hire some of the very best in the field both in terms of commitment and knowledge. If you are a resident of Key West, then you can choose us for engaging in this recreational activity without any reservations.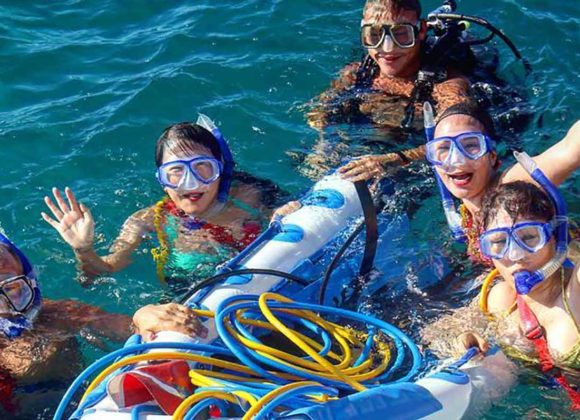 Here, we have put together 3 very basic pieces of equipment that you will need to go diving into the ocean. Take a look.
This item comes in a variety of shapes and sizes depending on the requirement of the customer. There are different masks for diving in cold waters and for diving in tropical waters. The water temperature often is the determining factor for choosing the right kind of mask as it is also the item that helps you breathe under water.
For those individuals who not know swimming, this piece of equipment is often vital for engaging in diving activities. These help you paddle your way around with ease.
For cold waters, this item is a must as it preserves body heat and allows the diver to enjoy the scenic beauty of corals and marine creatures without having to worry about his or her own life.
If you are looking to add some educational and enjoyable activities to your life, call us at (305) 395-9796, immediately.