Sunset Cruise in Key West and Surrounding Areas
5 reasons to hire sunset cruise for birthday parties
Here are a few reasons to hire sunset cruise for birthdays. Snuba Key West provides the same in Key West.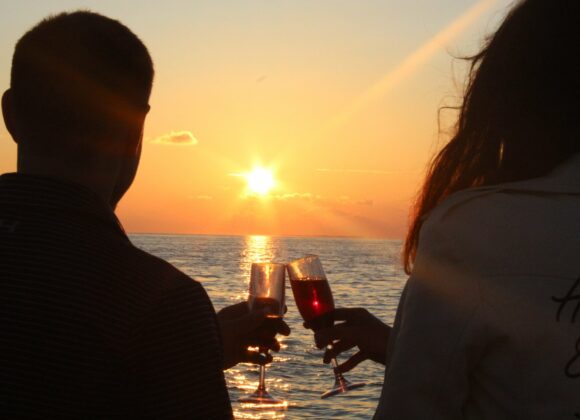 Unique and Memorable Experience: A sunset cruise offers a distinct and memorable experience for a birthday party. Celebrating on a boat while enjoying the breathtaking views of a sunset creates a magical ambiance that will be etched in everyone's memory. It adds a touch of elegance and adventure to the celebration, making it stand out from traditional birthday party venues.

Stunning Scenery and Photo Opportunities: A sunset cruise provides a picturesque backdrop for capturing beautiful photos and creating lasting memories. The golden hues of the setting sun reflecting off the water, combined with the scenic surroundings, offer excellent photo opportunities for you and your guests. The serene atmosphere and natural beauty make for stunning visuals that will enhance the celebration.

Exclusive and Private Setting: Hiring a sunset cruise for a birthday party offers an exclusive and private setting for you and your guests. Unlike public venues or restaurants, where you might have to share the space with other guests, a private cruise ensures that you have the entire boat to yourselves. This privacy allows for more intimate conversations, personalized activities, and a greater sense of togetherness among your guests.

Variety of Entertainment Options: Many sunset cruises offer a range of entertainment options to elevate the birthday celebration. You can choose from live music performances, DJs, or even bring your own entertainment on board. Some cruises also provide additional amenities like dance floors, karaoke setups, or themed decorations to create a festive atmosphere and keep everyone entertained throughout the evening.

Catering and Dining Experience: Most sunset cruises offer catering services or have partnerships with local restaurants. This means you can enjoy a delightful dining experience while cruising along the water. Whether you prefer a sit-down dinner, buffet-style meal, or even customized menus, you can work with the cruise company or catering service to create a menu that suits your preferences and dietary requirements. The combination of delicious food, pleasant surroundings, and the gentle rocking of the boat adds an extra touch of luxury to your birthday party.
Overall, hiring a sunset cruise for a birthday party offers a unique and unforgettable experience, stunning scenery, exclusive privacy, a variety of entertainment options, and an exceptional dining experience. It's an excellent choice for those looking to celebrate their special day in a memorable and distinctive way. Please call us without any hesitation.